In Buenos Aires the other week, I had the opportunity to talk through the principles of NOMA with some measurements people and Internet operators, who were meeting to discuss IPv6 measurements in general.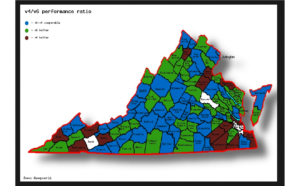 The full presentation is here, but let's just think for a moment about what might be possible with operator-instrumented networks providing shared insight into IPv6 measurements.
I.e., where most of our measurements today (from outside access networks) are focused on per-country results, with an instrumented network we could look at a finer level of granularity.
Of course, there's a lot more to do here than mockup possible visualizations.  Or, in fact, impossible visualizations — the map above is broken down by "county" in the US state of Virginia.  It was suggested that it would be much more likely possible to get aggregated data by metro area, which is indeed likely.
Thoughts?  Suggestions?  Leave a comment — or, check out the shiny new TechArk Facebook page:  http://www.facebook.com/TechArk .